Maori skulls to be repatriated to New Zealand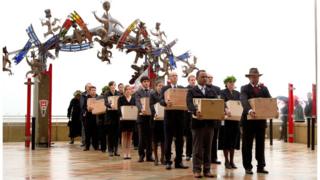 The remains of dozens of Maori are due to be returned to New Zealand from museums in the US and UK, more than 100 years after being taken from their native land.
The national museum, Te Papa, is preparing for the return of heads and skulls belonging to 60 Maori and Moriori, the indigenous people of the Chatham Islands, marking the second-largest repatriation in its history, the New Zealand Herald reports. The trade in indigenous peoples' remains was rife through the 19th Century, despite being officially banned in 1831, largely due to a Western fascination with "exotic" cultures, the museum says.
"These were dark days, when these tupuna [ancestors] were traded, collected and stolen, but today we have the opportunity to put right the mistakes of the past," Dr Arapata Hakiwai, the museum's Maori co-leader, tells the paper.
Among the remains which will be welcomed on 27 May are four tattooed preserved Maori heads - known as Toi moko - and the skull of a seven-year-old child. While most had been kept at the Smithsonian in Washington DC, several British institutions, including the Falconer Museum in Scotland, are returning individual skulls held in their collections.
The museum has a team dedicated to bringing ancestral remains home from museums around the world. The largest repatriation so far was in 2014, when Te Papa secured the return of 107 Maori and Moriori remains from the American Museum of Natural History.
Next story: German Bundesliga rivals in bridge colour spat
Use #NewsfromElsewhere to stay up-to-date with our reports via Twitter.