Huge cake giveaway follows Philippines election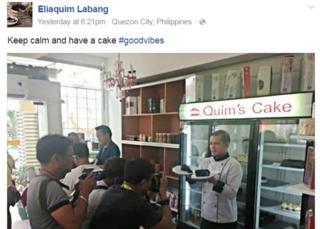 A baker who vowed to give away thousands of free cakes if Rodrigo Duterte won the Philippines presidential election says he'll keep his promise - but it will take a while.
Pastry chef Eliaquim Labang wrote on Facebook in November that if Mr Duterte was successful - having repeatedly said he wouldn't run - then his bakery would hand out 5 million pesos-worth of cake ($107,000; £74,000), the Manila Bulletin website reports. While his post was later removed, some forward-thinking netizens had saved a copy, just in case.
When it became clear that Mr Duterte was on course for victory, they reposted the free cake promise to social media, with thousands of people vowing to turn up at Quim's Cake Bakeshop in Quezon City and claim their promised slice.
Now the bakery says it's happy to oblige, but the cakes will - naturally - have to come in batches. "To celebrate clean and free elections, and in honour of our new leaders, we stay true to our promise," it says in a Facebook post that has been liked more than 22,000 times.
Perhaps mindful of the hysteria that free chocolate cake can create, the bakery is trying to bring some order to the proceedings with a strict schedule. Free slices will be available twice a month, during a two-hour window and only to 50 pre-registered people each time.
With each slice costing 130 pesos, Quim's will be giving away 38,462 of them, the Tempo website reports, noting that they will still be giving away the cakes well into 2017.
Despite the scale of the giveaway, Mr Labang seems to be taking it all in good spirits. On Thursday, he shared a photo of himself posing for photographers, along with the caption: "Keep calm and have a cake #goodvibes".
Next story: Maori skulls to be repatriated to New Zealand
LinkUse #NewsfromElsewhere to stay up-to-date with our reports via Twitter.