Hong Kong sludge facility offers spa services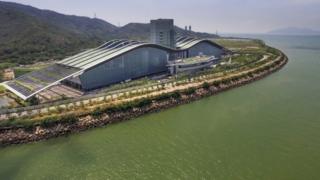 A new waste treatment plant in Hong Kong is hoping to attract visits from members of the public - for its spa services.
The unlikely combination of sludge processing and spa pools has been created at the new T.Park facility in north-west Hong Kong, the South China Morning Post reports. Visitors will be able to take guided tours to learn how thousands of tonnes of sludge - a by-product of sewage treatment - are incinerated at the plant, before relaxing in thermal pools. The spa water is warmed by heat from the incineration process, according to the local government. There's also a rooftop garden and a self-service cafe.
The plant's purpose is to reduce the volume of sludge by turning it into ash, thus taking up less space in landfill sites. Hong Kong creates about 1,200 tonnes of sludge each day, a figure that's expected to rise to 2,000 tonnes in the next 15 years, according to the T.Park website. It says turning the sludge into ash reduces its volume by 90%.
The facility is designed to be sustainable; it converts steam from the incineration process into electricity to power the rest of the site, and uses treated wastewater for cleaning and irrigation.
Next story: German churches to get wi-fi 'Godspots'
Use #NewsfromElsewhere to stay up-to-date with our reports via Twitter.