Russian schools in push to give students army training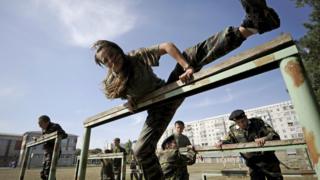 Schoolchildren in Russia will soon be taught a variety of military skills such as maintaining firearms as part of a new drive by the country's defence ministry.
The training will be provided by a revived Soviet-era organisation called Yunarmiya - or Young Army - and will be launched on 22 May as a pilot scheme in the city of Yaroslavl, before going nationwide in September, according to the state news agency RIA-Novosti. It will include things like assembling assault rifles, shooting and parachute jumping, but also theoretical subjects such as military history and tactics, the Gazeta.ru news website reports, quoting defence ministry officials.
Students will wear uniform, and units will have their own "headquarters" and banner. The age group is likely to be 14 to 18, but could start as soon as 10. Officials stress that attendance will not be compulsory, and will be in addition to normal existing lessons.
The aim appears to be to expand the military education already offered by schools. Russia has seen a surge in nationalism since the annexation of Crimea in 2014, and the ministry says it seeks to make the country's "growing number of patriotic military movements" more structured.
Views on these developments appear to be mixed. "Attempts to militarise children are a violation of their rights," Valentina Melnikova - who heads a soldiers' rights group - tells Gazeta. But the head of a rival, government-funded organisation, Andrei Kurochkin, says there is a need to "strengthen discipline, raise the prestige of the army and develop patriotic education". One parent who spoke to Gazeta is less than impressed: "I wonder if there will be any normal schools left," he says.
Next story: Vietnamese police offer cash for reporting crimes
Use #NewsfromElsewhere to stay up-to-date with our reports via Twitter.