Malaysian teachers confused by clapping practice order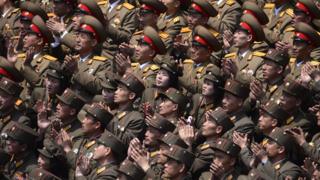 Teachers in Malaysia have reportedly been taking part in "hand-clapping practice" sessions after an apparent joke by an education director was taken at face value.
Terengganu state director of education, Shafruddin Ali Hussin, reportedly told a WhatsApp group of headteachers and educators that teachers should take part in five-minute practice sessions every week. It came after a lacklustre display of support for the state's chief minister at a recent Teacher's Day function where some teachers reportedly didn't clap, the Malaysia Star news website reports.
The message, which has gone viral among Malaysian internet users, requests that teachers send pictures of their applause training back to the director for verification. "I request that tomorrow you carry out clapping exercises for five minutes so teachers get used to clapping their hands... train them every assembly and show me photographic proof... I request action ladies and gentlemen... no exceptions," it says.
About five school head teachers say they have obeyed the clapping instruction, the Star says. "We have no choice. It is an instruction and we have to carry it out," one teacher told the paper.
However, Mr Shafruddin is less than impressed with the turn of events, telling the Malay Mail that his "instruction" was just a joke on a private social media group who would have known he wasn't being serious. "This is because they are my friends. I don't know why it has come to this," he told the paper.
As one video emerged purporting to be of teachers taking part in applause sessions, one commenter said: "This is like North Korea... being trained to clap your hands to celebrate something".
Next story: Canadian police ready themselves for bear season
Use #NewsfromElsewhere to stay up-to-date with our reports via Twitter.