Backlash as Seoul plans longer 'cram school' hours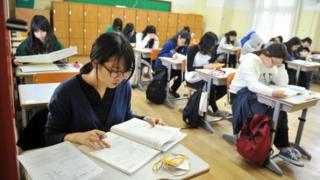 Councillors in Seoul have been criticised over a move to allow "cram schools" to teach secondary school pupils until 11pm.
The privately run schools provide after-hours tuition, sometimes called "shadow education", to prepare students for exams. In Seoul they can currently teach until 10pm, but the city council thinks that's not enough, the Korea Times reports.
"Ending classes for high school students at 10pm is too early for seniors preparing for the CSAT," says councillor Park Ho-keun, referring to the rigorous College Scholastic Ability Test. He says some students keep studying after 10pm anyway, at home or at institutes that aren't overseen by the authorities. "It's better to legally allow the students to study at cram schools," he says.
The council's plans have provoked an outcry from some education organisations and teachers, the paper reports. Non-profit group World Without Worries About Shadow Education says Korean youngsters already study for 70 to 80 hours each week. "They rank on the bottom of happiness indexes and their physical and mental health, relationships and creativity are being stifled," the group says.
It's common for students to undertake gruelling after-school study schedules, with little free time between school and evening study sessions. South Korea takes the university entrance exam so seriously that flights are re-routed on the day to avoid distracting students.
Next story: Japan's hanami cherry blossom ritual 'under threat'
Use #NewsfromElsewhere to stay up-to-date with our reports via Twitter.