'No shorts' rule for Beijing marriage licence applicants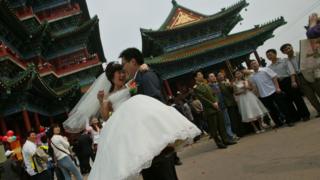 Couples who want to apply for a marriage licence in Beijing will have to dress smartly in future, or risk being turned away.
The city's Civil Affairs Bureau has announced a new rule stipulating that couples won't be issued a licence to wed if they show up in shorts, T-shirts or other casual wear, the state newspaper Beijing Daily reports.
The bureau's marriage registration director, Han Mingxi, says people aren't showing sufficient respect for the process. "It is not unusual to see couples registering in shorts and slippers. It shows their carelessness and disrespect for marriage," he tells the paper. "From one glance you can see that marriage registration is being treated as a casual affair, and this is prone to many problems."
Coming into effect on 1 July, the new rule is part of efforts to tackle the capital's divorce rate. Mr Han says his bureau is currently analysing a large number of divorce cases, and asking experts to "propose methods and ways to promote marriage and family happiness".
China's divorce rate has been rising for more than a decade: in 2015, the government said that 3.6m couples ended their unions during the previous year. Beijing had the highest rate among cities, with 55,000 divorces in a single year.
There has been a mixed response to the new rule among Chinese social media users. "Marriage is not child's play, it should be dignified," writes one on the Sina Weibo microblogging site. But others think applying for a licence shouldn't have to be a big deal. "What if a young couple want a low-key event?" asks one user, who thinks that applying for a licence is "simply a boring and tedious process" anyway.
Next story: 'Rude' bear statue removed near China securities HQ
Use #NewsfromElsewhere to stay up-to-date with our reports via Twitter.