Outcry over 'suggestive' Egyptian milk advert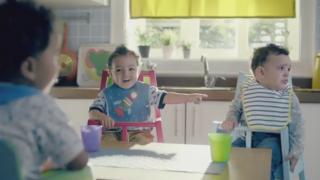 An Egyptian milk advert in which toddlers refer to their mothers' breasts has been banned after a public outcry, with some complaining it could encourage sexual harassment towards women.
The TV commercial for the Juhayna dairy brand featured two little boys teasing their friend about his inability to grow out of breast milk, accusing him of lacking "masculinity". The toddler whines: "I just cannot forget the dundoo," meaning his mother's breasts. One of the other boys replies: "And you never will."
The word "dundoo" has no origin in Arabic, and seems to have been used as toddler-speak to avoid referring directly to female body parts.
Egypt's Consumer Protection Agency banned the advert on Sunday, saying it contained thinly disguised sexual references, the al-Masry al-Youm website reports.
It first aired at the start of Ramadan, the Muslim holy month, clocking up 1.6m views on YouTube in less than a week. But it quickly ignited a storm of criticism from social media users.
One described the advert as "gross", while another said young men would now use the word "dundoo" to harass women on the street. That view was echoed by journalist and TV presenter Ibrahim Elgarhi, who sarcastically thanked Juhayna for its "valuable contribution" towards "updating the dictionary of sexual harassment terms with the word dundoo".
But others felt the problem was in people's minds. Women's Uprising, a women's rights Facebook page, said only "sick mentalities who view a woman's body as a sex object" would have thought the advert was suggestive. "Breastfeeding has never been something to be ashamed of," the page reads.
Sexual harassment is widespread in Egypt, and campaigners say things are getting worse. In 2014, a UN survey found that 99.3% of Egyptian women and girls had been subjected to verbal or physical harassment.
Next story: Snake slaughter after kindness ritual goes wrong
Use #NewsfromElsewhere to stay up-to-date with our reports via Twitter.