Hungary village opts for horses over bin lorries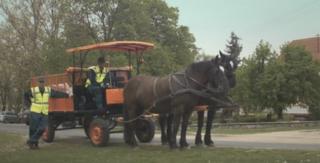 A village in western Hungary has started to collect recyclable waste from people's homes using horse-drawn carts.
The trial scheme in Nagyvazsony has seen conventional bin lorries replaced by the much quieter clip-clop of horses' hooves, in an effort to save money and help the environment. It's the idea of village mayor Szabolcs Janos Fabry, and is part of efforts to meet EU and Hungarian rules on collecting recyclable rubbish from every household in the country.
A video about the scheme says that while a regular bin lorry costs 50m forints to buy (£130,000; $180,000), a cart and the horses needed to pull it cost only 4m forints. Maintenance costs for the four-legged option are also cheaper, at about a third of those for the lorry, it says, adding that it could be a viable solution for 75% of Hungary's local government districts. A similar scheme was introduced by a borough in the Belgian capital, Brussels, in 2011.
Earlier this month, Mr Fabry, himself a prominent horse breeder, told the Vasarnapi Hirek site that it's expensive for small communities to meet the requirements for kerbside recycling, as lorries have to make several trips a day to collect it all. "By using the horse-drawn carts solution, not only would we save money and spare the environment, we would also once more give meaning to the historic fact that Hungary is an equestrian nation," he was quoted as saying.
Next story: Outcry in Egypt over 'suggestive' milk advert
Use #NewsfromElsewhere to stay up-to-date with our reports via Twitter.