Russian 'runaway robot' causes traffic jam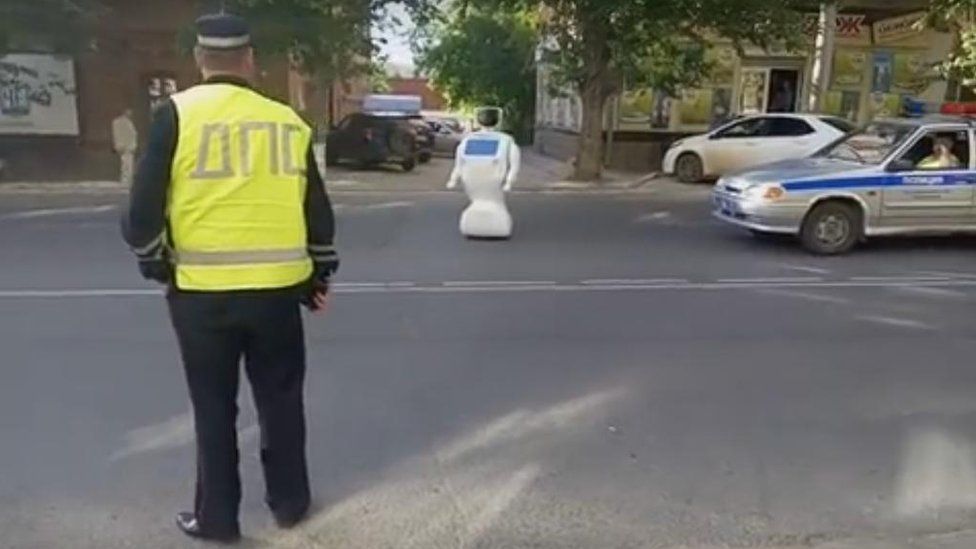 A robot escaped from a science lab and caused a traffic jam in one Russian city, it's reported.
Scientists at the Promobot laboratories in Perm had been teaching the machine how to move around independently, but it broke free after an engineer forgot to shut a gate, says the local edition of the Argumenty i Fakty newspaper. The robot found its way to a nearby street, covering a distance of about 50m (164ft), before its battery ran out, the daily says.
An eyewitness video posted online shows a vaguely humanoid machine standing in the middle of a busy road, guarded by a traffic policeman. It is then wheeled off by a human, presumably an engineer from the company that developed the robot.
But not everyone is convinced that the robot's escape was accidental: some in the Russian media have argued that it's all a ploy devised by Promobot to draw attention to its creation.
The company says its machines can interact with humans, for example by answering questions and giving directions. But as the name Promobot suggests, its primary purpose seems to be broadcasting promotional audio messages via built-in loudspeakers.
Use #NewsfromElsewhere to stay up-to-date with our reports via Twitter.