Italian schoolgirl unearths woolly mammoth bone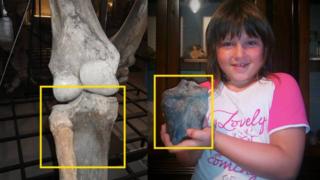 A seven-year-old girl has found part of a woolly mammoth's leg bone on a riverbank in northern Italy.
Emma Persico stumbled upon the fossilised chunk of tibia while walking along the River Po near the northern city of Cremona, and promptly dug it up, Corriere della Sera reports. Only a blackened tip was sticking out of a sandbank, and even her paleontologist father hadn't noticed it.
"It shows she has learned the first tricks of the trade," Prof Davide Persico, who works at the University of Parma, tells the paper. "We were stunned, and she couldn't stay still she was so happy."
Mammoths last roamed the region at least 12,000 years ago and finding a bone there is rare, the paper notes, making it a dream find for the youngster. Another Italian paper declared she was "better than Indiana Jones".
Mr Persico used photos from a natural history museum in the Netherlands to confirm the identification - joking that if he wasn't certain then he'd better find a new job - and says it's a tibia from a young woolly mammoth. The bone is now in a local museum, and will be put on display alongside a plaque with Emma's name on it.
Next story: New Zealand pays people to leave Auckland
Use #NewsfromElsewhere to stay up-to-date with our reports via Twitter.