Warning signs for Seoul's 'smartphone zombies'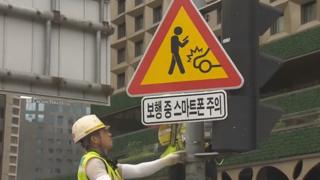 Seoul is installing 300 new street signs to warn pedestrians about the dangers of walking while engrossed in their smartphones - but not everyone's convinced they'll be noticed.
The first signs have been installed at five locations in the hope that they'll stop "smartphone zombies" in their tracks, the Korea Times reports. One sign at a major traffic intersection shows a person staring at a handheld device, oblivious to their imminent collision with a car.
While some signs are attached to traffic light poles, others have been plastered onto pavements in order to attract the lowered gaze of those distracted by their gadgets. But some locals aren't sure that signage is the solution. One man points out that "most people who are peering at their phones on the street aren't going to be able to see them".
Korea's Transportation Safety Authority recorded more than 1,000 smartphone-related traffic collisions in 2014, compared to 437 such incidents in 2009, the paper notes. South Korea has one of the highest smartphone ownership rates in the world, but like many Asian countries it's also been trying to tackle rising levels of addiction to the devices.
While Seoul's initiative is government-funded, two Swedish artists had a similar idea earlier this year, putting up unofficial smartphone warning signs in Stockholm. Elsewhere, some communities have opted for slow-walking lanes to segregate smartphone-dawdlers from those in a hurry, and one city even embedded traffic lights in the pavement at tram crossings.
Next story: Italian schoolgirl unearths woolly mammoth bone
Use #NewsfromElsewhere to stay up-to-date with our reports via Twitter.