Russian minister rebuked over 'Asian faces' remark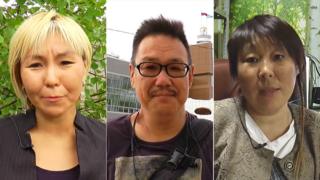 People living in Russia's Far East have fired back at the country's culture minister over controversial remarks he made about "Asian faces" in cartoons.
Culture Minister Vladimir Medinsky was speaking at the St Petersburg International Economic Forum last week when he said there's "nothing Russian" about the animated films being made in Russia. "If you give these cartoons an English voiceover, they will be no different from a Chinese studio's production. Even the children's faces there are Asian, cosmopolitan," he was quoted as saying by Interfax news agency.
That didn't go down well with those living in the vast north-eastern Sakha Republic (Yakutia), home to ethnic Yakuts, who took the minister to task. Dozhd TV broadcast video messages from people in the region's capital, Yakutsk, to Mr Medinsky. "I am ashamed - not of having an Asian face, but of you," Natalya Lopatina says in her message, "because you divide people who live in Russia into Asians and non-Asians." Journalist Egor Karpov tells the minister: "If you think that only ethnic Russians live in this country, you're not quite correct."
There's also been criticism from some social media users, with one declaring: "Let's boycott Medinsky and make him persona non grata in Yakutia." Others shared a photo of the minister with the caption: "Oh no, have I put my foot in it again?" He previously came under fire in 2014 after saying he wouldn't give government money to films that portray Russia as being "crap".
Irina Yefimova, press secretary to the head of the Yakutsk administration, tells a local news site that she organised the messages - and filmed one herself - to remind the culture minister that he's living in a multinational federation. "This alone is reason enough why films and cartoons cannot be solely about Russians or for Russians," she says.
Next story: Maori anger at 'offensive' shower curtains
Use #NewsfromElsewhere to stay up-to-date with our reports via Twitter.