Beijing 'alley homes' used to secure school places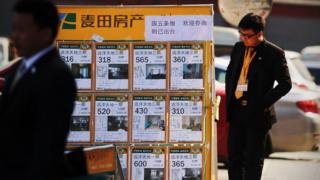 A Beijing estate agent has advertised an alleyway for sale at 1.5m yuan ($230,000; £153,000), touting the fact that it's located near a popular school.
The covered space, which provides access to other dwellings, measures only 10 sq m (108 sq ft) and is being used to store people's bikes, the Beijing Morning Post reports. The estate agent stresses that the passage can't be lived in, but says it's possible to register the address as a residence in order to secure a place at the well-regarded Beijing First Experimental Primary School.
One industry expert tells the state-affiliated Sixth Tone website that parents are increasingly buying up such spaces in order to get their children into the best schools, but it's not without risk. "The contract must clearly state that the area can be used, or has in the past been used, for housing, rather than just as a walkway for pedestrians," says Yan Yuejin from the E-house China R&D Institute think tank.
For those who prefer four walls, the prices are even higher. In March, a 13 sq m (140 sq ft) "apartment" was advertised for 4.8m yuan ($730,000; £490,000), China News Service reports. An education researcher says the sky-high prices show how unequal educational resources are in the city, leaving parents with little choice if they want their children to get a good education.
Rental prices aren't any better. Beijing was recently named the world's most expensive city for tenants, with average rental costs coming in at 1.2 times the average earnings.
Some people commenting online are incredulous at the cost of the alleyway. "If you have 1.5m yuan, send your child overseas to study," writes one person on The Paper.cn website. "You can actually buy, sell and trade alleys?" asks another. And one user sees a potential money-spinner, joking: "Buy it - and introduce charges."
Next story: Tashkent 'blocks Soviet-era cars' during SCO summit
Use #NewsfromElsewhere to stay up-to-date with our reports via Twitter.