Turkey to stop endangered birds migrating to Syria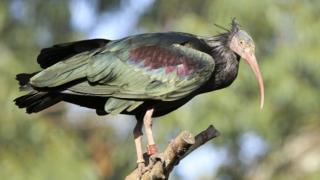 Environmental officials in Turkey have decided to stop a flock of critically endangered birds from migrating to Syria because in recent years they haven't come back, it's reported.
The ministry of forest and water projects plans to keep more than 200 northern bald ibises in cages to stop them flying south due to concerns for their safety amid Syria's civil war, the Hurriyet newspaper reports. The birds live at a breeding centre in Birecik, close to the Syrian border, but over the past four years many have failed to return from their southerly migration, the paper says. Northern bald ibises can travel as far as Ethiopia during the winter months.
Cooperation over the birds' conservation has previously been seen as a mark of warming relations between Turkey and Syria. In 2010, Turkey donated six ibises to its neighbour in a bid to boost the population there, which had dropped to just four birds, but the subsequent outbreak of war raised fresh concerns for their fate. Morocco is home to most wild ibises, but that population does not migrate.
In March, one environmental official told Anadolu news agency that the birds face many dangers when migrating, including hunters, but that regional conflicts were now the main worry. "If peace comes to the Middle East and we can be sure of their safety, we can send them out again to migrate in future years," said Israfil Erdogan, from the General Directorate of Nature Conversation. "But we won't let all of them go. We will choose adults to preserve."
Next story: South Korea launches work-life balance campaign
Use #NewsfromElsewhere to stay up-to-date with our reports via Twitter.