South Korea launches work-life balance campaign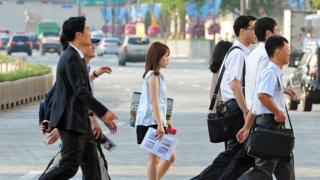 South Korea's government has launched a new campaign encouraging businesses to help their staff find a better balance between work and home life.
One of the campaign's main aims is to stop employers asking their staff why they want to take annual leave, the Korea Times reports. Some companies require employees to give a reason in writing for taking time off, but that's thought to discourage people from asking for leave, the paper says. Campaigners also want bosses to stop calling or emailing their staff after office hours have ended.
Senior managers are being encouraged to support the campaign, which is being jointly run with private sector groups. Koh Young-sun, vice minister of gender equality and family, says the public and private sectors need to work together to "fundamentally change" the country's working culture.
There will be a push for more positive language to be used with staff who have family commitments, and the government wants an end to employees being pressured into working overtime or attending after-work dinners, too.
South Koreans work some of the longest hours in the developed world. A 2015 survey by the Organisation for Economic Co-operation and Development (OECD) found that they work an average of 2,163 hours each year, compared to 1,388 in Germany. In 2014, the Seoul city government attempted to tackle the problem of exhausted employees by allowing them to take afternoon naps in specially created rest areas.
Next story: Tonga bakers protest against Sunday sales ban
Use #NewsfromElsewhere to stay up-to-date with our reports via Twitter.