Iceland road painted to stop Arctic terns being killed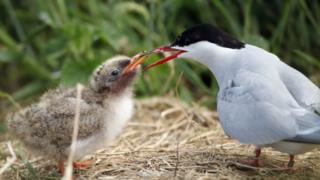 Biologists in western Iceland are hoping that brightly coloured roads could prevent Arctic terns being hit by traffic.
Scientists have painted a long stretch of asphalt on the Snaefellsnes peninsula red, yellow and white to try to discourage the sea birds from wandering onto the carriageway, national broadcaster RUV reports. The area is home to large Arctic tern colonies.
Young birds are particularly vulnerable to traffic as they gravitate towards the warm road surface, biology student Hanna Kristrun Jonsdottir tells the broadcaster. The dark asphalt also serves to camouflage the youngsters, whose feathers are a mottled brown.
As tourists numbers have grown, so has the amount of traffic on the peninsula's roads, the report notes. Biologist Kristinn Olafur Kristinsson says the plan is to see how the birds respond to the multi-coloured road this summer, and if it works, the idea could spread to other parts of the country.
Arctic terns are small birds, weighing only about 100g (3.5oz), and are known for their extraordinary annual migrations. In June, scientists at Newcastle University found that one had flown 96,000km (59,650 miles) from Northumberland's Farne Islands to the Weddell Sea in Antarctica and back - the longest migration ever recorded.
Next story: Turkey to stop endangered birds migrating to Syria
Use #NewsfromElsewhere to stay up-to-date with our reports via Twitter.