Russian region 'bans' divorce for one day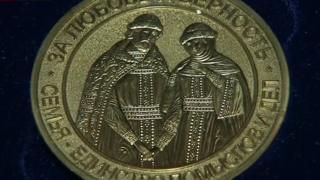 A region in north-western Russia has said it won't accept any divorce applications on 8 July, as the country celebrates its version of Valentine's Day.
Officials in the Novgorod region say that on Friday they'll be dealing only with people who want to tie the knot - not undo it, the Tass news agency reports. Russia is marking Peter and Fevronia Day, a celebration of family, love and faithfulness, which is traditionally considered a lucky day on which to get married. Saints Peter and Fevronia are the Orthodox patrons of marriage, and the holiday has been officially marked since 2008.
Novgorod is going big on the celebrations this year, with more than 300 festive events across the region. There will be "ritual betrothals", dances, flashmobs and bike rides dedicated to strengthening families, according to Tass.
Couples who have been together for 25 years will be given medals "for love and faithfulness", and those who have raised between four and seven children will be honoured for their "loyalty to parental duty". Irina Samusova from Novgorod's civil registry office says that since 2008, only 12% of the marriages which took place in the region on 8 July have ended in divorce.
Other regions across Russia are also taking part in the "no divorce day", asking couples to postpone applying for a dissolution of marriage until the celebrations are over. But the idea isn't supported by the Russian Orthodox Church. A spokesman said that "pressure and a refusal to change people's marital status is not the best tool".
Next story: Denmark's longest flint axe found by drain digger
Use #NewsfromElsewhere to stay up-to-date with our reports via Twitter.