Taiwan's celebrated Queen's Head rock formation at risk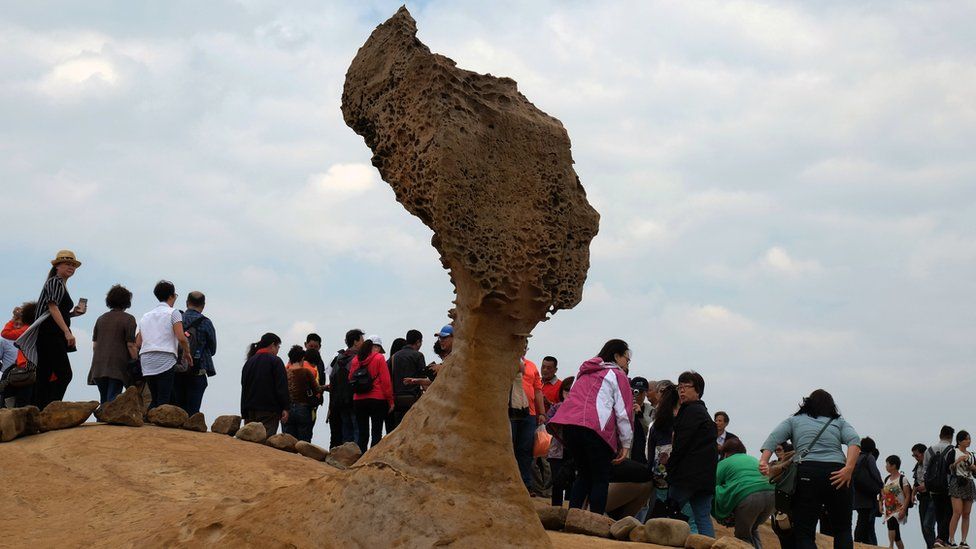 One of Taiwan's most well-known natural attractions is facing a race against time to save it from marine erosion.
The Queen's Head rock, a mushroom-shaped rock formation which resembles the profile of England's Queen Elizabeth I from some angles, is said to be at risk after attempts to protect it from marine erosion have proved unsuccessful, China Daily newspaper reports. Formed by wave attacks, rock weathering and earth movement, the 180 stones at Yehliu Geopark in New Taipei attract some three million visitors annually. Park authorities are worried that the neck of the rock, which has lost 12cm (5 inches) of circumference in the last eight years could give way soon.
Helena Tang of the organisation which owns the coastal park told China Daily that wind and sea erosion are the least of their worries: "In addition to being battered by sea water and wind, the fragile neck is at risk from typhoons and earthquakes." One idea to encase the Queen's Head in a glass box was rejected as waves from typhoons would likely rip it off its foundations, causing catastrophic damage to the formation.
Instead, the park has tried a type of nanotechnology paint on one of their other rocks in a bid to slow erosion. Despite appearing to succeed, the rock turned a shade of white, making it stand out from the others. "The paint is a bit cosmetic-like, which means the rock looks unnatural," says Tang.
In a change of tack, the park unveiled replicas of some of its most famous rocks, which would otherwise be too fragile or too dangerous to approach. The replica is all that's left of one formation known as the "Leopard", which has since been washed away by storms.
However, there's some argument over what - or who - is to blame for the decline of the Queen's Head. While China Daily lays the blame at weather and sea erosion, Taiwanese media also point to the actions of over-enthusiastic tourists from the Chinese mainland keen to touch the rocks. There may be some respite in this regard - local workers at Yehliu report a sharp drop in visitors from China. "Before, you'd see queues for about 100 metres, during peak season, but now they're only about 20 or 30 metres long," one employee told TVB television.
Use #NewsfromElsewhere to stay up-to-date with our reports via Twitter.