Fur flies over New Zealand cat ban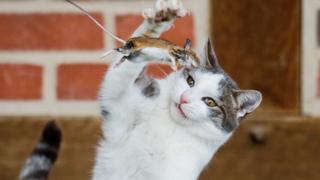 New Zealanders hoping to move into a new housing estate north of the city of Wellington will have to agree to an unusual condition of purchase - no pet cats.
Many cat owners have faced the grisly experience of their feline companion coming home with a gift of a dead bird or animal, and it's for this reason that a new housing development in Kapiti is to completely ban pet cats, Radio New Zealand reports. The homes in question are near to a nature reserve, and it's feared that the location will prove too much temptation for pet cats to hone the hunting skills that domestication has never quite managed to suppress. There's already a fence to keep dogs away from the reserve, but it's not capable of deterring felines, the radio says. Local councillor Guru Nathan told the Newshub website "If cats got into the sanctuary the result would be devastating" to insects, lizards and birds living there.
The homes in question are selling for up to NZ$600,000 (US$420,000; £316,000), and estate agent Stuart Whyte says he's "lost a few sales" because of the no cats covenant. "Locals mainly support the idea but the odd person says it's ridiculous, asking how can you police it?" he says.
Opposed to the idea is the Feline Rights NZ group, whose secretary Pete Rose tells Newshub that the ban along with the Department of Conservation's trapping of feral cats sets a "disturbing precedent", which might lead to "zealot extremist environmentalists given free rein to engage in trapping".
That's an argument with which the council in Wellington is currently grappling. They're sifting through hundreds of responses to its proposed Animals Bylaw, which includes a number of rules to stop cats from killing native wildlife, The Dominion Post says. Among these is a "cat cap", which could limit the number of cats per household to three, or as low as zero in environmentally sensitive areas. This has lead to fears of a "wholesale genocide" of feral animals which made the fur fly among cat lovers, Stuff.co.nz reported in May.
Despite the opposition from some quarters, if anybody feels tempted to sneak a cat into the development at Kapiti, estate agent Stuart Whyte says "You're likely to be dobbed in by an environmentally savvy neighbour."
Next story: Chinese woman's book choice brings celebrity status
Use #NewsfromElsewhere to stay up-to-date with our reports via Twitter.