North Korea's Kim Jong-un loses access to Swiss watches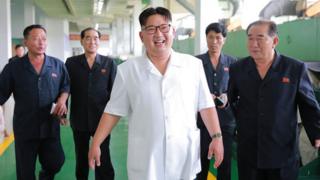 North Korean leader Kim Jong-un's liking for expensive Swiss timepieces appears to have fallen foul of UN sanctions.
The Swiss government has put an end to the export of luxury watches to North Korea, and have totalled zero for the last two months, US-backed Radio Free Asia reports. The North Korean Supreme Leader is often photographed wearing an expensive timepiece, and it's long been thought that they've reached the country despite United Nations sanctions. The UN bans the export of luxury items to North Korea due to its nuclear and ballistic missile projects. Kim and his sister Kim Yo-jong - now a senior party official - were both educated in Switzerland, and the Supreme Leader is known to be interested in some aspects of Western culture.
According to South Korea's JoongAng Daily newspaper, the Federation of the Swiss Watch Industry has confirmed that exports have stopped. Kim's interest in Swiss timepieces - both for himself, and as gifts for party members - peaked at around US$220,000 (£168,000) in 2012. As well enforcing the ban on luxury products, Switzerland also froze the assets of North Koreans within the country, and funds owned by the North Korean government, JoongAng Daily says.
In the past, Switzerland has refused the sale of a ski-lift to North Korea for its Masikryong winter sports resort due to sanctions, an act which Pyongyang called "a serious human rights abuse". In the end, North Korea sourced a ski-lift from China, which interpreted the machinery as an everyday item for the benefit of the North Korean people, rather than a luxury.
Next story: Fur flies over New Zealand cat ban
Use #NewsfromElsewhere to stay up-to-date with our reports via Twitter.