New Zealand aims to become predator-free by 2050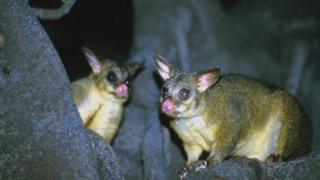 New Zealand has set a goal of eradicating all non-native predators within 35 years in order to protect the country's indigenous wildlife.
The clock is ticking for stoats, rats and possums, as Prime Minister John Key wants "every single part" of New Zealand to be free of the creatures by 2050, the New Zealand Herald reports. Mr Key says the animals kill 25 million native birds each year, and getting rid of them will be "the most ambitious conservation project attempted anywhere in the world".
Feral cats are also in the government's sights, but pets - including Mr Key's own moggy, Moonbeam - aren't at risk. Last week, a new housing development in Wellington hit the headlines for its pet cat ban, aimed at protecting wildlife at a nearby nature reserve.
The government is set to invest NZ$28m (US$19.5m; £15m) in a new company, Predator Free New Zealand Ltd, and wants the private sector to provide financial support. The opposition Green Party has pointed out that one university study found achieving such an aim would cost closer to NZ$9bn (US$6.3bn; £4.8bn).
While poison will play a part in some areas, ministers are also banking on technological advances, Radio New Zealand reports. Conservation Minister Maggie Barry says the project will need technology that doesn't yet exist in order to meet its aims, as predator-proof fences won't be suitable for a national solution.
It's not just furry predators that are worrying the authorities. A two-year ban on pea farming is being imposed across the North Island's Wairarapa region, after invasive pea weevils were discovered in seeds. Officials say the ban will cut off the food source for weevil larvae, which feed on growing pea pods, in order to get rid of the insects before they can become established in New Zealand.
Next story: North Korea's leader loses access to Swiss watches
Use #NewsfromElsewhere to stay up-to-date with our reports via Twitter.