China museum cats spared eviction after online campaign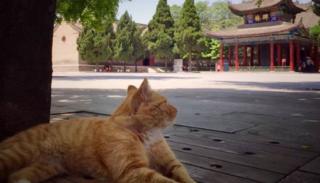 A group of stray cats facing eviction from a Chinese museum has been spared after social media users rallied to the animals' defence.
The cats hang out around the Xi'an Beilin Museum, housed in a former Confucian temple in central China. While the museum is home to a vast collection of stone monuments, its official account on microblogging site Weibo often chronicles the lives of its feline residents, with two adult cats and two kittens featuring in recent posts.
But trouble began to brew last week, after one cat scratched a child who had been trying to play with its kitten, the China Daily website reports. The youngster's mother complained to officials, and the animals' fate appeared to be sealed. The museum planned to catch and re-home them, but the internet had other ideas.
Thousands of users flooded the museum's Weibo page pleading for the creatures to be left in peace. "Don't force them out of their homes, they have no fixed abode, that's awful and they are not to blame," protested one user. Another said: "Leave them! They're part of the beautiful landscape!" One person noted that cats don't generally attack people without being provoked, and a "voiceless kitten" should not suffer as a consequence. The tale swiftly went viral - even the state newspaper People's Daily got involved, asking its readers: "Whose side are you on?"
Faced with an outpouring of kitty love, the museum convened a management meeting on Monday, and decided that the strays could continue to lounge in the grounds - as long as people heed warnings not to approach them. It also announced online that the cats will be vaccinated, de-wormed and sterilised.
The news was greeted with jubilation online, with more than 18,000 people sharing and liking the post. "We never expected so many supportive comments for our kittens on Weibo," says museum media officer Li Jingwen, adding: "I personally was very moved."
Next story: Tonga 'serious' about Winter Olympics ski squad
Use #NewsfromElsewhere to stay up-to-date with our reports via Twitter.