Serbia and Croatia in war of words over assassin statue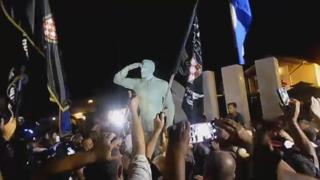 Serbia has demanded that Croatia remove a newly-erected statue honouring a convicted assassin.
The monument to Miro Baresic was unveiled on Sunday in the seaside village of Drage with two Croatian government ministers in attendance, as well as several far-right supporters, Balkan Insight reports. A Swedish court convicted Baresic of murdering Yugoslav ambassador Vladimir Rolovic in Stockholm in 1971, sentencing him to life in prison. Baresic died in 1991 while fighting in the Balkans war, and is considered a hero among Croatian nationalists.
At the unveiling ceremony, Croatia's Culture Minister Zlatko Hasanbegovic described him as "a knight, a hero who sacrificed his whole life for the idea of the Croatian state", the regional N1 broadcaster reports. But Serbia's foreign ministry was incensed, calling Baresic a terrorist and accusing its neighbour of "an improper, civilisation-defying act, unprecedented in modern-day Europe".
Serbian Prime Minister Aleksandar Vucic has called for a response from the European Union on the issue, while War Veterans' Minister Aleksandar Vulin says Croatia has "sunk into madness from which it is simply unable to emerge".
Croatia's embassy in Belgrade, meanwhile, is refusing to accept any more diplomatic protests from Serbia. Deputy Prime Minister Bozo Petrov describes the Serbian reaction as "sad", saying it shows they "have not yet reconciled themselves with the past".
The consequences of the neighbours' war of words could be long-lasting, according to one Serbian analyst. "This type of rhetoric really has serious consequences," Aleksandra Joksimovic of the Foreign Policy Centre tells N1. "It takes a lot longer to kick-start relations again and then to improve them as well, considering that Serbia and Croatia need to resolve a whole host of open bilateral issues."
Baresic's 1971 Swedish imprisonment was short-lived - he was freed the following year on the demand of a Croatian far-right group which had hijacked a Scandinavian Airlines aircraft. After a period spent in Paraguay, he was extradited back to Sweden and given a reduced prison sentence in 1980.
Next story: Egyptian campaign rejects gold bridal gifts tradition
Use #NewsfromElsewhere to stay up-to-date with our reports via Twitter.