Smelly stoat gland surprise for New Zealand thieves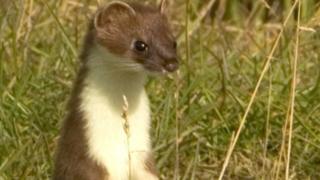 Thieves in the New Zealand city of Wellington are in for a nasty surprise if they open their spoils from a recent robbery.
Criminals stole a box marked "chemicals" from the back seat of a conservation company's pick-up truck on Sunday, possibly expecting drug-making materials, the New Zealand Herald reports. However, the box contained nothing but 16 bottles of an experimental - and foul-smelling - oil made from the anal glands of stoats.
Robbie van Dam, director of the Goodnature company which owns the noxious brew, said the gland oil is part of a national effort to rid New Zealand of foreign predators such as stoats, rats and possums. Prime Minister John Key wants the country to complete a programme of removing invasive species by the year 2050. Stoats were introduced to New Zealand as a means of controlling rabbits, but caused a drastic decline in bird populations, the Department of Conservation says.
"We know a range of lures will be part of removing stoats from the whole of New Zealand. Scent glands are just one of the experiments our sophisticated research and development team is working on," Mr Van Dam says, explaining that the gland oil is essential as an attractant in its range of self-setting animal traps.
The problem, which the opportunist thieves may already have experienced, is that the putrid stench associated with the anal glands of stoats "lingers on any fabric or surface". According to Mr Van Dam, it's a substance best handled in a laboratory fume cupboard. Describing an incident when a gland was "popped" in the lab during research, he tells the paper: "We had fans running and windows open in the middle of a Wellington winter, and it still took weeks to go.
"Some staff chose to work from home for a couple of days."
Next story: Canadian farmers fight off geese with laser technology
Use #NewsfromElsewhere to stay up-to-date with our reports via Twitter.