Minsk rail bosses agree to Belarusian-language playlist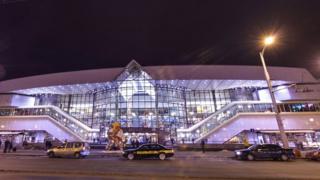 Managers at Minsk's main railway station have agreed to play more Belarusian-language music after a passenger complained about the building's playlist.
Yahor Makarevich wasn't happy that all he could hear in the waiting room of Belarus's flagship station was Russian pop, and - much to the amazement of local media - he received a prompt reply promising to rectify the situation. The Nasha Niva newspaper printed the response, which vows to give Belarusian songs equal billing. "Your suggestion is correct, and we have already bought discs of Belarusian-language music to make our selection. The Russian and Belarusian languages will alternate," it says.
Belarusian is the native language of a minority in the country, mainly in rural areas and the west, and has been marginalised in favour of Russian during the 22-year authoritarian rule of pro-Moscow President Alexander Lukashenko. But the government has started to rehabilitate the neglected tongue in the last two years, in what observers of the political scene consider to be a cautious attempt to distance itself from Russia following the Ukraine crisis.
One area in which Belarusian has flourished is pop music, with groups like Lyapis Trubetskoy garnering a notable following in Russia and beyond with songs in both languages.
Social media users have voiced support for the move, and offered to help the station managers in choosing the playlist. Some music lovers are wary about the possible song selection, fearing it may veer towards traditional folk music rather than new, innovative groups. But one comment on the Nasha Niva site praises the managers as "good lads" for not only promoting Belarusian music, but also "buying the discs rather than pirating the music from the internet".
Next story: Japan quake regions use Pokemon Go to revive tourism
Use #NewsfromElsewhere to stay up-to-date with our reports via Twitter.