Tokyo monitors heatstroke risk for 2020 Olympics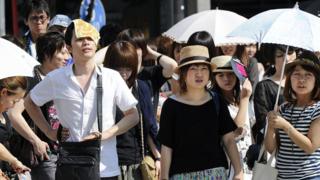 Officials in Tokyo are setting up monitoring devices around the city to determine the risk of heatstroke during the 2020 Olympic and Paralympic Games.
The environment ministry experiment will measure heat and humidity along the planned marathon route and at the new stadium site, as well as the strength of sunlight bouncing off the road and pavements, the NHK news website reports. The first monitors will be installed near the Imperial Palace gardens this month, with more being added next year. The devices will turn the data into heatstroke warnings, ranging from "caution" to "strict vigilance" and "danger", the report says.
It was announced in 2013 that Tokyo would host the Games during the height of summer, starting on 24 July, which prompted many to voice concern about the effect of the city's oppressive heat on spectators and athletes. Some dubbed the plans "dangerous", noting that temperatures can soar above 33C with high humidity.
Tokyo last hosted the Olympics in 1964, but on that occasion they were held in mid-October. One day in July this year saw more than 800 people treated for heatstroke nationwide, with a temperature of 35.4C recorded in Tokyo.
The government says it's considering a number of options to keep people cool, Japan Today reports, from natural solutions such as planting more trees, to mechanical ones like installing sprinklers and misting systems. There's also a suggestion of creating new road surfaces which absorb rain, the idea being that it then evaporates and causes the temperature to fall.
Next story: Egypt state TV orders female hosts to lose weight
Use #NewsfromElsewhere to stay up-to-date with our reports via Twitter.