China jaywalkers given instant road safety lesson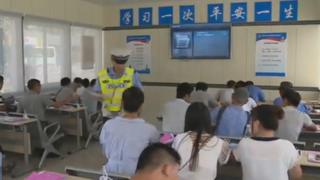 A city in eastern China is teaching jaywalkers a lesson about road safety by setting up makeshift classrooms near major intersections.
Anyone caught dodging the traffic in Xuzhou, Jiangsu province, is taken to one of the roadside rooms straight away and taught about traffic laws by local police officers, the China News Service reports. It says classrooms have been set up near the train station and on other busy roads, and the lessons replace the usual cash fines.
During the hour-long class, jaywalkers are taught 30 basic rules and shown video footage of collisions to illustrate the danger of breaking traffic laws, Huaihai TV reports. They must then pass a test before being allowed to leave.
Local policeman Wang Minghai says the aim is to reach a large number of people and improve how they behave in traffic, but also just to remind them of basic rules of the road. "The very simple principle that you stop when there's a red light, and go when there's a green one - no one here has any paid attention to this," he tells the channel.
One participant says the class had the desired affect, telling the TV: "I won't jaywalk again, I don't want to come back here."
Xuzhou isn't the first city to try something new to deal with the problem. In 2015, police in the southern city of Shenzhen gave anyone caught jaywalking the option of either paying a fine, or donning a bright green hat and helping officers to direct the traffic.
Next story: Fruit smugglers 'upgrade' Russian border road
Use #NewsfromElsewhere to stay up-to-date with our reports via Twitter.