Dubai ruler's spot check finds empty desks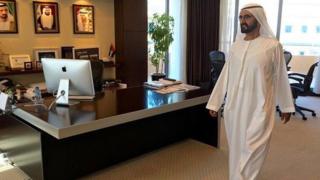 A spot inspection of civil service offices by Dubai's ruler resulted in embarrassing footage of Sheikh Mohammed standing awkwardly by empty desks which should have been occupied by high-ranking officials.
If there ever was a day not to turn up late for work, it was Sunday morning in Dubai where Sheikh Mohammed bin Rashid carried out an early morning inspection of several civil service departments, the Gulf News newspaper reports. Sunday is a normal working day in the Emirate, and Gulf News said that the Sheikh began his surprise tour at 7.30am, expecting to see senior officials already working at their desks. But as video posted to Twitter by the government's media office shows, the Dubai ruler is the only person present, save for his own framed portrait on the wall.
Nine senior officials from the Dubai Municipality have been ordered to retire as a result of the sheikh's visit, the Khaleej Times reported.
According to Gulf News, Sheikh Mohammed is known for his early-morning inspections "to ensure government services are up to Dubai's globally admired standards", so his presence should not have come as a complete surprise to those caught out. Another inspection at Dubai's airport found immigration officers present and correct, Al-Arabiya TV reported.
While none of the tardy civil service bosses was named, Mona Al Marri, director general of the Dubai Media Office told The National newspaper that the ruler "certainly wanted to send a message". Ms Al-Marri went on to say: "Timeliness starts at the top, and we won't go after the employees when their bosses aren't there."
Country profile: United Arab Emirates
Next story: Tonga skate ramp steers youth away from drugs and crime
Use #NewsfromElsewhere to stay up-to-date with our reports via Twitter.