Burger tribute for Russian protest artist Pavlensky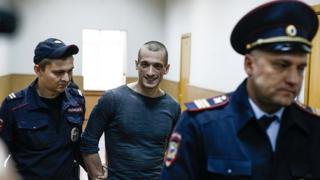 A fast-food chain has created a range of burgers honouring controversial Russian performance artist Petr Pavlensky, best known for nailing his scrotum to the cobbles of Red Square.
Mr Pavlensky was last in the news in June when he was fined for setting fire to the door of the FSB security service headquarters in Moscow. He says his work is intended to shake people out of their indifference, and that the genital-nailing was in protest at government "repression".
To celebrate six years since it opened in his native St Petersburg, Burger King is putting four "limited-edition Pavlensky Burgers" on its menu in the city, modelled on his most notorious public appearances, the Kommersant newspaper reports. The company told Kommersant that one burger features a "sewn-up bun", recalling the artist stitching his mouth shut in support of jailed punk band Pussy Riot in 2012. The Red Square encounter is graphically marked with an egg speared to the burger by a plastic nail.
Burger King has hit the headlines in Russia with a series of ads this year, which many marketing analysts say are deliberately aimed at stirring up controversy. The country's advertising standards agency recently probed two that a presidential aide considered to be "in poor taste".
The company says it chose Mr Pavlensky as a famous son of St Petersburg who "resonates with the public" in the city, adding that it wants to "bring culture to the masses" - a popular mantra from the Soviet era.
As for the risk of it getting into political trouble, some pundits say the Kremlin is wary of making a martyr of Mr Pavlensky, as happened with Pussy Riot. And PR consultant Yekaterina Yemelyanova tells Kommersant that the latest campaign is "funny, with no attempt at suggesting a serious agenda". "All PR is good PR - except for an obituary," she concludes.
Next story: Austria road works unearth mammoth discovery
Use #NewsfromElsewhere to stay up-to-date with our reports via Twitter.