Iceland goose hunt turns up 1,000-year-old sword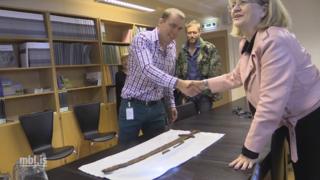 A group of Icelandic goose hunters got more than they bargained for during a recent outing - they didn't catch a single bird, but stumbled upon a Viking sword thought to be more than 1,000 years old.
The five men were in Skaftarhreppur in southern Iceland when they found the sword, which they think may have washed up during a recent flood, the Visir news website reports. One of the men, Arni Bjorn Valdimarsson, shared a photo of it on his Facebook page and swiftly received a call from Iceland's Cultural Heritage Agency, which took possession of the artefact on Monday morning.
The agency's director, Kristin Huld Sigurdardottir, says only 20 swords of this age have been discovered in Iceland before, making it a significant find. It didn't take much effort on the hunters' part, though. "It was just lying there, waiting to be picked up - it was obvious and just lying there on the ground," one of them, Runar Stanley Sighvatsson, tells Iceland Monitor. It's believed the sword dates back to at least the 10th Century, and may have been placed in a pagan grave, the website says.
The exact area where the sword was found hasn't been revealed, as the agency wants to do a little digging of its own to see what else is lying around there.
Next story: Tokyo quake drill focuses on tourist language barrier
Use #NewsfromElsewhere to stay up-to-date with our reports via Twitter.