North Korean TV finds its funny bone with comedy show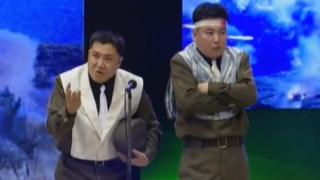 Television in North Korea isn't known for its laughs, but that's changed now that a comedy programme has returned to the air after a break of several years.
The satirical offering, snappily titled "The stage of optimism that Songun presented", was first seen on Korea Central Television at the end of August, and two episodes have been aired at regular intervals since, JH Ahn writing for NK News reports. "Songun" is North Korea's "military first" policy which gives priority to the armed forces in state affairs, and the entertainment seems to be provided entirely by soldiers.
Virtually all programmes seen by North Korean viewers are either a celebration of the rule of the Kim family, or attacks on South Korea and the United States, and this is little different. With a sparse set and performers largely clad in military uniforms with cloth tabards over the top, the studio audience laps up lampoons of President Obama and South Korean President Park Geun-hye, referred to in the programme as "Granny".
One show, which has since been posted on Central TV's YouTube channel, shows "President Obama" with a bandaged head, which he explains to an aide came from falling over in shock at North Korea's claimed hydrogen bomb test, NK News says. Another skit shows a group of South Koreans being framed for anti-US protests by corrupt police officers.
According to South Korea's Unification Ministry, which keeps a database of TV programmes shown in the North, the comedy was last seen in 2012 in the early days of Kim Jong-un's rule, and was absent from North Korean screens for seven years before that. The reason it has returned now is unknown.
While North Korean media expends huge amounts of energy hurling insults at its enemies, it's thought to be the first time that it has used satire as part of its arsenal, NK News' Ahn writes.
Next story: Swiss pensioners take part in 'Elderly Olympics'
Use #NewsfromElsewhere to stay up-to-date with our reports via Twitter.