Row as airline weighs passengers to American Samoa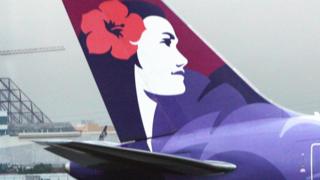 A pair of American Samoan businessmen have complained to the United States transport regulator over their claims that they had to be weighed before joining their flights from Honolulu.
According to Radio New Zealand, they are annoyed with Hawaiian Airlines because they were unable to choose their own seats on the flight from Hawaii to Pago Pago, with the airline citing a rise in average passenger weight and a need to distribute the load evenly around the aircraft on that route. One of the complainants, Avamua Dave Haleck, says the new rule is discriminatory and an injustice, because it only applies to flights between Honolulu and the American Samoan capital.
"And of course Hawaiian is saying that 'yes it is a safety issue', Mr Haleck told Radio New Zealand, "so have we been flying unsafe for all these years?"
The airline operates several Boeing 767-300 aircraft, which have a seating capacity of 269 and a range of 11,090km (6,890 miles) - comfortably more than twice the distance of 4,176km (2,595 miles) between the two airports, Radio New Zealand points out.
However, Hawaiian Airlines' decision may be driven by the fact that American Samoa is rated as one of the most obese countries in the world. Obesity in the Pacific Islands is said to be of epidemic proportions, with citizens developing a taste for cheap, imported fast food rather than their traditional diets. One in three Samoans suffers from type 2 diabetes as a result of their diet, America's NPR radio reported earlier this year.
The United States Transportation Department says it is investigating the complaints.
Next story: Minorities feel brunt of Dutch police spot-checks
Use #NewsfromElsewhere to stay up-to-date with our reports via Twitter.