Controversy over Russian sporting club's campaign medal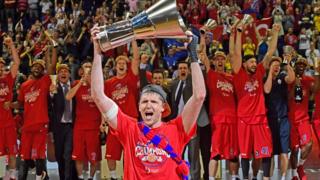 One of Russia's largest sports clubs is awarding medals to fans who travelled to Berlin to watch its basketball team win a major tournament, but it's caused anger among people who say it's an insult to the country's war veterans.
CSKA Moscow beat Turkey's Fenerbahce at Berlin's Mercedes-Benz Arena in mid-May to win basketball's Euroleague final, and the club has now said that anyone who can prove they were there is eligible for a medal "For the Capture of Berlin", Dozhd TV reports. This follows last year's trip to the finals in Spain, where fans were given medals "For the Capture of Madrid", despite CSKA only finishing third.
Supporters who bought tickets through the club will automatically be sent a medal, while those who got to the arena by other means need to show ticket stubs or social media photos, "and then we are happy to reward the heroes," the club says.
But the Berlin medal does not lack controversy. It shares its name with, and bears a striking resemblance to, the campaign medal given to troops who took part in the capture of the German capital between 22 April and 2 May 1945. CSKA - the Central Army Sports Club - was founded in 1911, and still has links with the country's armed forces and the Defence Ministry. Despite this, the announcement has caused anger among fans and politicians alike.
'Insult to our veterans'
Deputy parliament speaker Igor Lebedev told the Championat sports website that the medal is the last thing Russia needs when Moscow is trying to rebuild relations with Germany. Calling the award "complete nonsense", he says it can be seen as "an insult to our veterans" because "the medal was gained on the battlefields, blood was spilled for it".
Reaction to the announcement on CSKA's Facebook page has been overwhelmingly negative, with club officials being accused variously of being "insane", "imbeciles" and "off their heads" for belittling the sacrifice of World War II troops. One user said the club "spat at the war veterans", while another posted "I'm glad my granddad isn't alive to see this".
Club president Andrei Vatutin sees nothing wrong with the commemorative medal, saying there are neither military connections nor political connotations with current Europe-Russia tensions. "It's nothing to do with revenge," he says.
Next story: South Korea launches earthquake text alerts
Use #NewsfromElsewhere to stay up-to-date with our reports via Twitter.