Denmark develops 'super grass' to cut cow burp emissions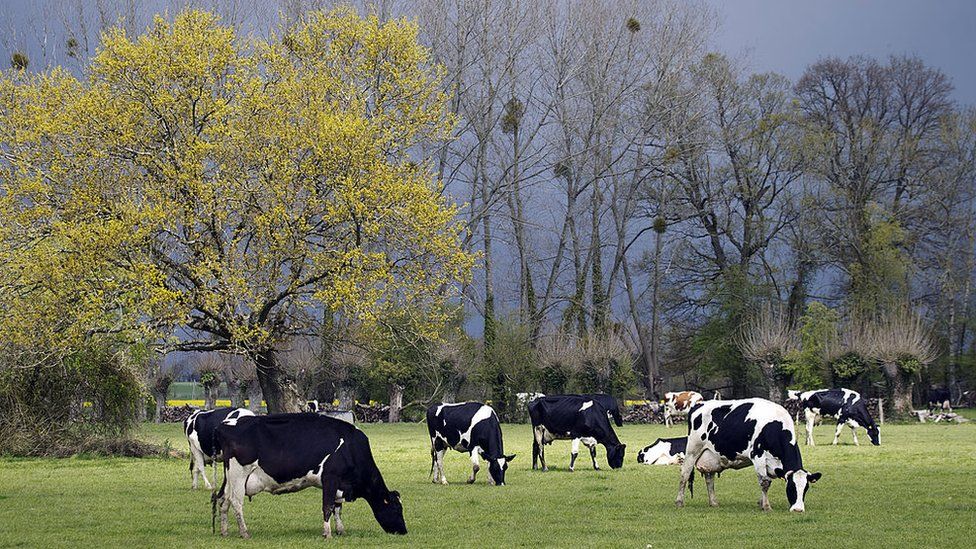 Scientists in Denmark are developing a new type of grass that's designed to reduce methane emissions from belching cows.
Researchers at Aarhus University have used DNA technology to make the grass easier to digest, meaning less gas builds up in the bovines' stomachs, the Berlingske website reports. "It is simply a better diet for the cow, which can utilise the feed more efficiently and therefore doesn't release as much methane when it burps," says senior researcher Torben Asp from the Department of Molecular Biology and Genetics.
Methane doesn't last as long in the atmosphere as carbon dioxide, but in the long term it has a far greater impact on climate change, according to the US Environmental Protection Agency.
The project has been given 13.5m kroner ($2m; £1.6m) in funding by Denmark's environment and food ministry, which is enthusiastic about the potential. "We know that cattle are one of agriculture's culprits when it comes to releasing greenhouse gases, so it's important that we explore how we can reduce cows' emissions," says Minister Esben Lunde Larsen. He says easier digestion will also lead the cows to produce more milk. According to the DR public broadcaster, the "super grass" will be available in seven or eight years.
As for gas emissions from the beasts' opposite ends, Mr Asp clears up some confusion. He says that while it's a common misconception that cow farts are the problem, it's definitely the burps.
Use #NewsfromElsewhere to stay up-to-date with our reports via Twitter.