Masking tape saves endangered kiwi in New Zealand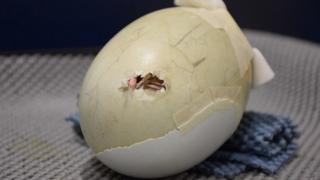 Every life matters when it comes to saving New Zealand's endangered national bird, and one kiwi chick has been kept alive with the imaginative use of masking tape.
Using nothing but tape, a fragment of shell and MacGyver-like ingenuity, nature park worker Claire Travers patched up a badly damaged egg sufficiently for the baby kiwi to survive, New Zealand's Newshub website reports. The egg was found by a Department of Conservation worker, who brought it to the Rainbow Springs Nature Park at Rotorua. "The shell was broken through to the egg's internal membrane, splitting it so the membrane had collapsed on top of the chick, which is very dangerous," Ms Travers tells Newshub.
However, the animal husbandry expert's persistence paid off, and the bird - named Fissure after its cracked egg - hatched 11 days later. "To be honest I didn't think the chick had any chance of surviving because the hole in the shell was so big, I was absolutely over the moon when it hatched," she tells Radio New Zealand. "It really gave me a thrill that against all odds we had saved one of our iconic kiwi chicks."
All five species of kiwi are listed as "threatened" or "at risk", New Zealand's Department of Conservation says, and there are only 68,000 of the birds left in the wild, a figure declining by approximately 1,000 every year. Following stark warnings over its survival, the government set aside millions of dollars last year to save the "famous and precious" bird. "If we don't do more now to halt their decline, we risk losing wild kiwi forever," Conservation Minister Maggie Barry said at the time.
Next story: Germany city sees bubble flashmob protest
Use #NewsfromElsewhere to stay up-to-date with our reports via Twitter.