Software tracks down online 'Polish death camp' slurs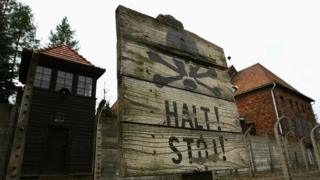 A civic group has launched a web tool to track down phrases that imply Polish responsibility for atrocities committed under the Nazi occupation of Poland during World War Two.
Maciej Swirski, chairman of the Polish League Against Defamation, says the computer programme "scours the internet for abuse more quickly than a worldwide network of volunteers can do searching manually", the League website reports. He says the software has found more than 200 uses of phrases like "Polish death camps", "Polish SS", and "Polish ghetto", mainly in English and German, in one month alone.
Successive Polish governments, as well as organisations at home and abroad, have complained for decades that the use of such language by foreign media and politicians - including US President Barack Obama - gives that impression that it was Poles who ran concentration camps like Auschwitz, rather than the Nazis. Earlier this year the Auschwitz Museum offered an app to highlight and correct offensive terms.
Mr Swirski says the new system, which also searches Facebook and Twitter profiles, will compile a database of people using such language in order to judge whether incidents are slips of the tongue or "deliberate attempts to defame Poland". He acknowledges that the former is often the case, particularly when material has been copied from elsewhere. But the stakes are rising since the right-wing government introduced a bill to make implying Polish responsibility for Nazi atrocities a criminal offence, punishable by up to three years in jail.
Some observers have asked whether a ban is going too far, given that most people use such phrases out of ignorance rather than malice. As Jerzy Haszczynski of Rzeczpospolita newspaper writes: "After all, almost every use of the phrase leads to an apology."
Next story: Flying squirrel numbers soar in Helsinki
Use #NewsfromElsewhere to stay up-to-date with our reports via Twitter.