India news channel NDTV uses mime in media freedom debate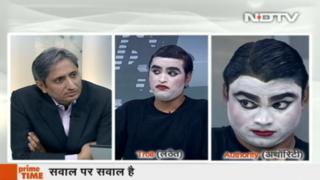 An Indian news channel has aired an entire discussion programme using only mime artists as guests to make a point about media freedom.
Ravish Kumar, who presents NDTV India's Prime Time, mock-interviewed two mimes about whether journalists should ask questions of the government, with the theme: "If we can't ask questions, what can we do?" The mimes, one cast as a government official and the other his supportive internet troll, responded to Mr Kumar with a mixture of threatening gestures, exaggerated facial expressions and gibberish.
The satirical show comes in the wake of the government ordering NDTV India to go off-air for 24 hours on 9 November as a penalty for how it covered a militant attack in January. It says the channel revealed "strategically-sensitive details" in its coverage of the attack on Pathankot air force base, something NDTV denies.
It also follows comments by Minister of State for Home Affairs Kiren Rijiju, who told reporters last week that "questioning the authorities and the police" was "not a good culture".
Mr Kumar's news show was full of references to the current political climate in India: at one point, the internet troll character indicated how he would wring the anchor's neck if he asks too many questions. There has been a recent spurt in the activities of internet trolls who often respond aggressively to any online criticism of the government.
The programme prompted a furious debate on Twitter. Some hail Mr Kumar: "In a world full of boot lickers #RavishKumar stood out. Huge respect," one person tweeted. But both he and NDTV have attracted plenty of criticism, too. "This is exactly how they turn the narrative around!" says one user, adding that it's not about freedom of speech, but about "compromising the security of our country".
As for NDTV, it says on its website: "When did authority and police rise above questioning? Authority means accountability. Without it, power becomes something else altogether."
Next story: No free lunch for American Samoa voters
Use #NewsfromElsewhere to stay up-to-date with our reports via Twitter.