Russia children 'face wolf attacks' on walk to school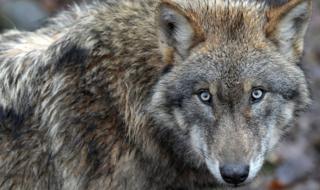 Officials in southern Russia have been forced into providing transport for schoolchildren after a video emerged of them walking to school armed with an axe to fend off wolves.
Youngsters in the village of Verkhniy Nugush, in the autonomous Bashkortostan region, have to walk 10km (6.2 miles) to the nearest secondary school on a route that takes them through a forest. A video of the group trudging their way through deep snow, one student clutching an axe, was shared online by their parents. The journey became necessary after the village's own school closed, and no buses were put in place.
The parents say their children were attacked by a wolf recently but managed to escape, although the authorities say there haven't been any officially recorded attacks on humans, Rossiya 24 news channel reports.
Local officials initially told the MediaKorSet news portal that they knew about the situation but couldn't arrange a bus service because of a steep slope on the route. They said it had been agreed that parents would take it in turns to get the children to school.
Once the story made headlines, though, they backpedalled, announcing that transport would be provided after all. The local Bashinform news agency says a four-wheel-drive vehicle has been allocated after the intervention of the district prosecutor's office.
Noting the swift turnaround, MediaKorSet says: "Perhaps the media coverage and social media reaction helped the authorities to see the issue from a different angle."
Next story: Ukraine imposes language quotas for radio playlists
Use #NewsfromElsewhere to stay up-to-date with our reports via Twitter.