St Petersburg officials mocked for 'fake clean up'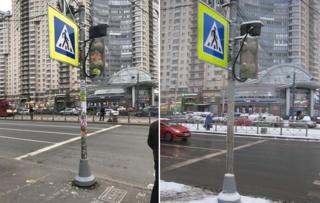 Officials in St Petersburg are facing criticism over claims that they've used shoddily photoshopped images to make it look like they've carried out maintenance work that hasn't actually happened.
Last week, a resident submitted a request on the city government's website for advertising stickers to be cleaned from a lamp post, and an official responded on Tuesday that the work had been done. Alongside the message was a photo of the lamp post in question, supposedly after being scrubbed clean.
But those who gave the photo a closer look - using the handy zoom feature provided - thought something was amiss. "St Petersburg officials used Paint to clean adverts off the lamp post," reads the headline on Baltika FM website, referring to the rather basic Microsoft image editor.
It looks like the photo has been given the "spray can" treatment, creating a two-tone speckled grey effect over the stickers. A Baltika correspondent decided to investigate, locating the lamp post and confirming that it still had adverts for "sex services" stuck to it.
A top official from the traffic management department insists the work has been done, but adds that an "overzealous" employee may have taken it upon themselves to embellish the results a little. "In any place you can find a person who wants to present the situation in a better light than it really is. We will of course investigate," Dmitry Popov tells Radio Baltika.
Social media users are thoroughly unimpressed with the apparent digital trickery. One person mocks the rudimentary editing effort, posting his own version of the photo where the lamp post is so clean that it sparkles. Another writes: "I'm looking forward to the time in Russia when they will eradicate poverty, crime rate and unemployment with the help of Paint. Quick and easy."
The incident comes only a week after a similar controversy. Officials in the city's Primorsky district initially claimed to have repaired a pathway, posting pictures of it looking freshly resurfaced, before being rumbled by a VKontakte user who pointed out no such work had taken place. On that occasion a spokesman said the image was actually of "pre-design work" and had been mistakenly uploaded by an overworked graphics editor.
Next story: Stolen statue of beloved Istanbul cat returned
Use #NewsfromElsewhere to stay up-to-date with our reports via Twitter.