Macedonia cracks down on election list 'tricks'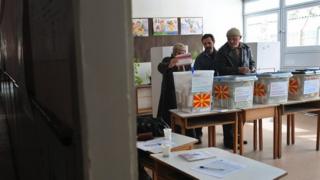 A small Macedonian political party which tends to run candidates with remarkably similar names to their opponents has had its latest list of hopefuls rejected, it's reported.
The State Electoral Commission found numerous irregularities in the Social Democratic Party of Macedonia's (SDPM) candidate list for the forthcoming parliamentary election, including incorrect signatures, Balkan Insight reports.
The SDPM has often riled the country's main opposition party, the Social Democratic Union of Macedonia (SDSM), by proposing candidates whose names are almost identical to their own. It's been seen as an attempt to trick voters into casting their ballot for a different party than the one they intended.
Balkan Insight notes that this year's SDPM candidates included Stevo Prodanovski and Radmila Shukuroska - names not unlike those of the SDSM's Stevo Pendarovski and Radmila Shekerinska. "We have been having a lot of problems with this 'phantom' party in the past," SDSM spokesman Petre Shilegov tells the website. He says it "managed to trick several thousand voters" in previous elections.
Macedonians aren't the only ones who have faced this problem, though. In June, a Romanian town had three candidates with exactly the same name on the ballot for its mayoral election. The incumbent, called Vasile Cepois, like his two rivals, suspected underhand tactics by opposition parties at the time.
Confusion may also have led to 10,000 people casting their ballots for a Literal Democrat candidate in the UK's 1994 European elections. That prompted a legal challenge from the more well-known Liberal Democrats, which ultimately led to legislation banning the use of names designed to cause confusion with existing parties.
Next story: Tokyo university subsidises rent for female students
Use #NewsfromElsewhere to stay up-to-date with our reports via Twitter.