German poster of Baroque old master 'too disturbing'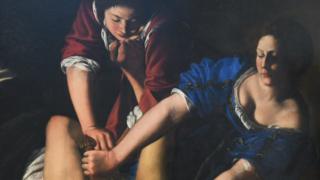 An advert for an art exhibition in central Germany has drawn complaints from parents who find the 17th-Century Italian masterpiece it shows too disturbing for children.
Residents in the town of Heppenheim were horrified when a poster showing Judith Slaying Holofernes - the best-known work of early Baroque painter Artemisia Gentileschi - went up on an advertising column, local broadcaster HR reports. The painting is on loan from Naples for an exhibition of Italian Baroque art at the nearby Wiesbaden Museum. It features a rather graphic scene: the Israelite heroine Judith cutting off the head of an invading Assyrian general.
The bloody motif was wildly popular among Renaissance and Baroque artists including Donatello, Titian and Caravaggio, but some locals think it's unsuitable for a public place. "My children asked me why this man is being killed," one mother tells local paper the Darmstadt Echo. She says it shouldn't be on a school route at the eye-level of children: "This could give them nightmares."
Museum director Alexander Klar defended the poster, saying many traditional images could be similarly criticised. "Have you ever seen children stand horrified in front of Christ nailed to the cross?" he asks the paper, adding that the work aims to arouse pity and get people to think about the nature of cruelty.
But Olivia Rebensburg, head of Hesse's Child Protection Society, tells HR there's legitimate concern about the kind of images children see.
The museum isn't taking the posters down immediately but says it will gradually remove around 1,000 from across the region as their leases run out. As for the one in Heppenheim, it says it could be moved higher - out of children's view.
Next story: Tokyo university subsidises rent for female students
Use #NewsfromElsewhere to stay up-to-date with our reports via Twitter.