Ancient Egypt crocodile surprise at Dutch museum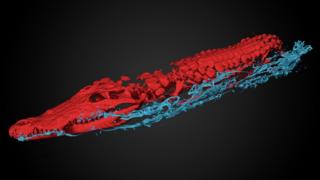 A new scan of a 2,500-year-old crocodile mummy has stunned experts in the Netherlands by revealing that there are dozens of mummified baby crocs inside.
The 3m-long mummy has been at the National Museum of Antiquities in Leiden since 1828 and is on display in its Egyptian galleries. In the 1990s, a scan showed that there were actually two crocodiles within the wrappings, but did not spot at least 47 individually wrapped youngsters, de Volkskrant news website reports.
It took an advanced three-dimensional CT scan by the Swedish technology company Interspectral to reveal what was hidden inside. "You can't see them very well on the old scans unless you know they're there - and we never expected to find this," says curator Dr Lara Weiss. She says the mummy would have been an offering to the crocodile god Sobek.
The museum describes it as an "exceptional discovery" and says the use of both young and older crocodiles could reflect the ancient Egyptians' belief in life after death. The scan was originally planned as part of preparations for a new exhibit which allows visitors to carry out an "interactive virtual autopsy" on the both the crocodile mummy and that of an Egyptian priest. It will give people a chance to examine each layer and also get a close-up 3D view of the amulets inside the wrappings, the museum says.
In 2015, scientists at the British Museum in London found that a huge mummified crocodile had 20 hatchlings attached to its back. That discovery was also made using a CT scan, which had to be done in 80cm sections because the mummy was so large.
Next story: 'Russiano' coffee joke sparks online humour
Use #NewsfromElsewhere to stay up-to-date with our reports via Twitter.