Egypt girls launch cycling equality campaign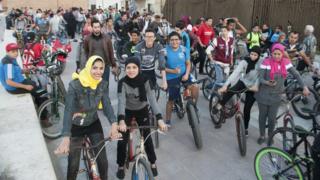 Girls in northern Egypt have launched a bike-riding campaign in protest against widespread intolerance towards female cyclists.
It's unusual to see women cycling in Egypt, and some of those who do so face harassment from passers-by. But five teenagers in the city of Port Said are trying to change that. They created a group called "There is no difference" to promote cycling as an option for female travellers, prompted by steep rises in the cost of taxi and minibus rides since the government slashed fuel subsidies.
Their first event was a mass bike ride in the coastal city that attracted both male and female cyclists. "We want to show that there is no difference between boys and girls," Israa Fayed, one of the organisers, tells government-sponsored Al-Qanal TV. "Girls can ride bikes, and our first aim is to get society accustomed to the sight of a girl on a bike."
The initiative has attracted support from women's rights group Kahilah. Its founder, Enas al-Maasarawy, says hundreds of young people got on their bikes for the event. "There was a great turnout. We think it is the beginning of a change," she told the BBC.
There was plenty of praise on the event's Facebook page, where one of the girls taking part said they were united around one goal: "To make the society believe that riding bikes is normal, and there is nothing shameful about it."
There has been widespread concern over women's rights in Egypt in recent years after a spike in sexual harassment and violence against women following the country's 2011 revolution. New punishments were introduced for offenders in 2014, including jail terms of up to five years.
Next story: Ancient Egypt crocodile surprise at Dutch museum
Use #NewsfromElsewhere to stay up-to-date with our reports via Twitter.