Black swan sculpture unnerves Beijing investors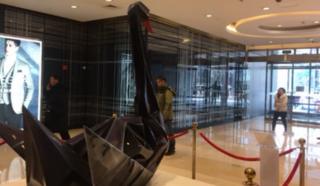 A black swan sculpture in Beijing's financial district has been removed only hours after being unveiled because of concerns it might bring bad luck to the markets, it's reported.
On Monday, the huge swan was placed inside the entrance of a swanky shopping centre located across the road from China's Securities Regulatory Commission (CSRC). It sat there for half a day before being covered up and whisked away by shopping mall staff, Beijing's Fazhi Wanbao newspaper reports.
In financial circles, a "black swan" represents a highly unlikely and unpredictable event - something not much loved by investors. It's not clear whether anyone from the CSRC complained about the swan's presence, or if the shopping centre was just erring on the side of caution. But it wouldn't be the first time a sculpture has alarmed the commission.
In June, a statue of a popular cartoon bear was removed from outside the same shopping centre after officials complained that it appeared to be sticking its middle finger up at the CSRC building. The choice of animal probably didn't help - the term "bear market" refers to falling share prices and widespread selling.
Many Chinese social media users think the swan's removal is an overreaction and see it as market traders throwing their weight around. "This mall is private property, they can put up what they like!" one person writes on microblogging site Weibo. "They're suffering from paranoia," another remarks, while one user thinks the traders must lack confidence in their own abilities if they think a shopping centre statue holds that much sway over the markets.
Next story: Finland postal service starts befriending scheme
Use #NewsfromElsewhere to stay up-to-date with our reports via Twitter.