German Catholic charity launches 'No Santa' initiative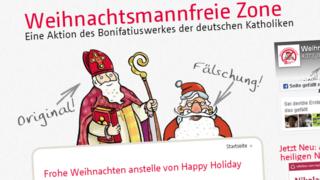 A Catholic charity has launched a "Father Christmas-free zone" in a German town as part of efforts to promote the more traditional figure of Saint Nicholas.
Scores of children attended an event in the Bavarian town of Passau to mark the arrival of the saint and the setting-up of the Santa-free zone, the Bayerischer Rundfunk news website reports. The ceremony was also attended by talent show celebrities and the local bishop.
Saint Nicholas's feast day is on 6 December and is celebrated in Germany with presents, but the Catholic Bonifatiuswerk charity fears he is being superseded by the more "Anglo-Saxon" Santa Claus in the hearts of young Germans. The red-suited newcomer is more associated with the commercial aspects of Christmas in Germany, and appears in the ubiquitous festive truck-based adverts for Coca-Cola much like he does elsewhere in the world.
But according to Bonifatiuswerk, there's more to the feast of Saint Nicholas than the receiving of gifts, and their campaign exists as a "snappy" gesture against Santa Claus "underlining the importance of Christian traditions and values". That includes what the charity feels should fill the German equivalent of Christmas stockings: saint-shaped chocolates. "By using fairtrade chocolate bars... Saint Nicholas' boots won't be filled with ungodly Santas," it says.
For those who may have already bought their Santa-shaped chocolates, there's a remedy. The charity's website offers a handy cut-out-and-keep Saint Nicholas outfit, designed to be placed over Santa chocolates to give them a more traditional look.
Next story: Giant lobster bought by Canadian vegan is set free
Use #NewsfromElsewhere to stay up-to-date with our reports via Twitter.