Giant lobster bought by Canadian vegan is set free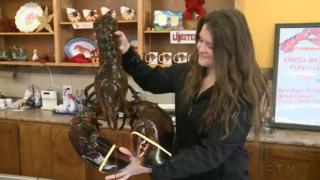 An enormous lobster caught off the coast of eastern Canada has been snapped up by a vegan buyer and released alive back into the ocean.
The crustacean weighs a hefty 23lb (10.4kg) and was pulled from the water near St Martins, in the province of New Brunswick, on Sunday. The Alma Lobster Shop served as a temporary home for the creature and gave it the name King Louie, CTV News reports.
Co-owner Catherine McDonald says the 4ft-long (1.2m) lobster could be 100 years old, and its sheer size meant "there was nothing else that was going to going to be a predator - except man". She tells The Canadian Press that a 3lb lobster, itself larger than most, was only the size of King Louie's claw.
But rather than let it end up on the dinner table, vegan Katie Conklin from neighbouring Nova Scotia decided to shell out 230 Canadian dollars (US$170; £140) so that King Louie be returned to nature. Ms Conklin tells CTV she hopes that "he lives a happy life for his second chance".
Fisherman Rodney MacDonald gave the lobster its freedom on Tuesday, shouting "thank you, Katie" as he released it over the side of the boat.
Next story: German students banned from eating canteen leftovers
Use #NewsfromElsewhere to stay up-to-date with our reports via Twitter.