Russian region ordered to restore Teutonic castle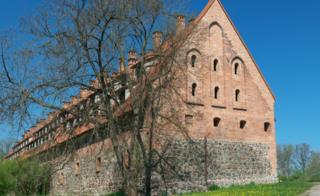 Prosecutors in Russia's Kaliningrad Region are demanding that the local authorities restore Eylau Castle, a 14th Century fortress built by the Teutonic Knights but gutted in a major fire in 2014.
The law officers say the important monument to the region's cultural heritage has been abandoned by Kaliningrad's State Property Agency, which owns the castle, the official Vesti news channel reports. A correspondent notes that it has "survived two sieges, World War Two, and the Soviet Union, but now it's crumbling before our eyes".
Historian Alexander Panchenko tells the TV that homeless people squatted in the building after the Russian economic crisis of 1998, and then plans to turn it into an hotel fell apart when the global recession 10 years later caused investors to quit. "All that remains of the luxury hotel are a few doorways," he laments while taking the camera crew on a tour of the gutted 5,000-sq-m (16,500-sq-ft) building in the border town of Bagrationovsk.
Fire-retardant insulation installed in the roof in the 1990s was gradually removed over the years, Vesti reports, and it was the 2014 fire that prompted an investigation.
Prosecutor Alexander Rubinfain says his office has ordered the State Property Agency to "restore the castle in the near future, and ensure that it is safe for the public", adding ominously that he will "review progress within a month".
Kaliningrad's Culture Minister Andrei Yermakov says the authorities are "actively seeking investors" to help with the project, as they would struggle to finance the work from their own budget.
But there may be a way out. Mr Yermakov adds that if nobody steps up, he will appeal to the national government for help through a programme to mark the anniversary of the 1807 Battle of Eylau. Russians see this as Napoleon's first major military defeat at the hands of their army.
Next story: Mouse-sized art appears on Swedish street
Use #NewsfromElsewhere to stay up-to-date with our reports via Twitter.