Russian law students get patriotism lectures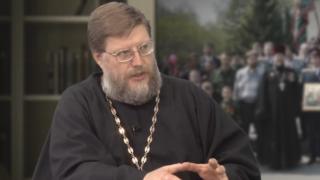 Students at a law school in Siberia have complained about having to attend lectures by a Russian Orthodox cleric promoting patriotism and praising President Vladimir Putin, it's reported.
The lectures were organised as part of the students' "spiritual and moral education" and raised issues concerning traditional values and the lessons of history, a statement on the website of Novosibirsk Law Institute said. They were delivered by Archpriest Dmitry Polushin, head of the Novosibirsk Diocese's department for relations with the armed forces, law-enforcement agencies and Cossacks.
While the institute implied that the two lectures were voluntary, students told the local Tayga.info news website that they were effectively compulsory as they replaced scheduled sessions on municipal and labour law. The students said that while the lectures were largely about history, they also touched on current affairs, including the "troubles" in Ukraine and the dangers facing Russia.
One told the site that Father Dmitry "said revolution was bad and God was good... He said we had to believe in our dear father the Tsar, that is Putin, and that our land was the target of curses and priests were guarding us."
Father Dmitry defended his role, telling Tayga.info: "And who else should tell them to love the motherland? There are concepts that can only be understood in spiritual and moral terms."
The institute's director, Lidia Chumakova, accused Tayga.info of failing to understand the importance of patriotic education at a time when there is a "growing threat of the dissemination of extremist ideas among young people". She also stressed that patriotism was one of President Putin's key national ideas.
At the end of 2015, the Russian government approved a programme for the "patriotic education of citizens of the Russian Federation" to run from 2016 to 2020. It seeks, among other things, to "create in young people the moral, psychological and physical readiness for the defence of the Fatherland".
Next story: 'Lost' Aboriginal art found on government office wall
Use #NewsfromElsewhere to stay up-to-date with our reports via Twitter.