'Drone plot' to destroy North Korean statues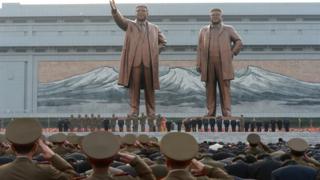 A North Korean-run news website claims that a defector group is planning to use explosive-laden drones to blow up statues of its former leaders.
According to a report on the Uriminzokkiri propaganda website, the group - which it termed "human scum" - had already conducted test flights from the Chinese border area in their attempts to blow up statues of Kim Il-sung and Kim Jong-il in one northern city. It claimed that the plan was approved by South Korean president Park Geun-hye in an attempt to divert attention away from the corruption scandal which saw her impeached last week, South Korea's Yonhap news agency says.
"We will never forgive anyone who desecrates our leaders, and will ruthlessly end the lives of those who take part in such activities, even if we have to chase them all around the globe," the North Korean report said.
Speaking to news and analysis website NK News, Park Sang-hak representing the Fighters for Free North Korea defectors' group, claimed that they were behind the drone incursion. "It was our top-secret operation, I have no idea how the North found out it was us," he said. Park told NK News that the test flight successfully reached the statues at Hyesan, a city on North Korea's border with China, and that they would blow them up "next time the North conducts another nuclear test, threatens the South with missile launches or attacks our South Korean soldiers."
The plan may be unrealistic according to one South Korean explosives expert, who told NK News that a drone would not be able to carry a charge large enough to demolish a metal statue.
Even an unsuccessful attack would be certain to provoke dangerous tensions between Seoul and Pyongyang. The personality cult surrounding the Kim family is such that statues and portraits of Kim Il-sung and Kim Jong-il are venerated with almost religious fervour, and destroying a statue would be - in the words of Uriminzokkiri - an attack on "the highest dignity" of North Korea.
Next story: Russian law students get patriotism lessons from clergy
Use #NewsfromElsewhere to stay up-to-date with our reports via Twitter.